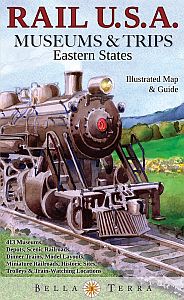 Information on 413 rail attractions from Maine to Florida—the most comprehensive, up-to-date listing anywhere!
Includes railroad museums & exhibits, historic depots, scenic railroads, dinner trains, trolley rides & museums, miniature railroads, model layouts & antique toy trains, railroad historic sites, and train viewing platforms.
Covers every state along the Atlantic coast plus Vermont, Pennsylvania & West Virginia.
Locations shown on detailed maps--including 5 insets--for easy travel planning. GPS addresses in directory.
16 eye-catching, original watercolor illustrations—all available as art prints and notecards.