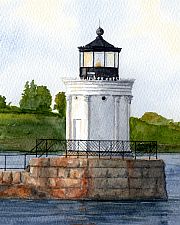 Bella Terra's state & regional lighthouse maps are a unique combination of map, guidebook & souvenir.

The cartography makes it easy to visualize where all the lighthouses are...or were. And the guides take you right there, with authoritative histories and viewing directions.

Beautiful, original watercolor illustrations make these maps delightful keepsakes.

Each title is available as a folded map or laminated poster.

Above: Detail of Portland Breakwater Light, by Rob Thorpe, from 2013 edition of Maine Lighthouses.

Below: Detail of Potomac River & Chesapeake Bay, from Mid-Atlantic Lighthouses.


California & Hawaii
Includes Lake Havasu (CA-AZ)
Maine
2013 EDITION
Includes nearby New Brunswick & coastal New Hampshire
Mid-Atlantic
2013 EDITION
New Jersey, SE Pennsylvania, Delaware, Maryland & Virginia
Northwest
Oregon, Washington & Alaska
Southeast
North Carolina, South Carolina & Georgia
United States
2013 EDITION
All 779 standing lighthouses in the entire 50 states