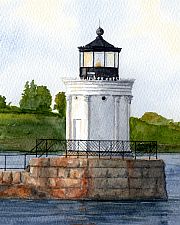 Bella Terra's state & regional lighthouse maps are a unique combination of map, guidebook & souvenir. Each title is available as a folded map or laminated poster.

The cartography makes it easy to visualize lighthouse locations. And the guides take you right there, with well-researched histories and viewing directions.

Beautiful, original watercolor illustrations make these maps delightful keepsakes. Many of the images are now available as prints and notecards; see Art.

Above: Detail of Portland Breakwater Light, by Rob Thorpe, from Maine Lighthouses.
Below: Detail of Potomac River & Chesapeake Bay, from Mid-Atlantic Lighthouses.

LIGHTHOUSE MAP TITLES
California & Hawaii
Includes Lake Havasu (CA-AZ)
Maine
Includes nearby New Brunswick & coastal New Hampshire
Mid-Atlantic
New Jersey, SE Pennsylvania, Delaware, Maryland, DC & Virginia
Northwest
Oregon, Washington & Alaska
Southeast
North Carolina, South Carolina & Georgia
United States
All 779 standing lighthouses in the entire 50 states