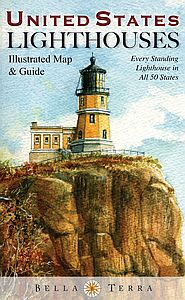 UNITED STATES LIGHTHOUSES
Illustrated Map & Guide – Revised 5th Edition
The most up-to-date & comprehensive U.S. lighthouse directory.
Every standing lighthouse in all 50 states located on detailed regional maps—including Lake Havasu, AZ/CA.
State-by-state directory cites official lighthouse name, alternate name(s), year of first lighting, year of current structure, physical location & latitude/longitude.
46 original watercolor illustrations, several newly commissioned;
all available as art prints and notecards.