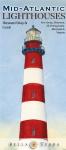 MID-ATLANTIC LIGHTHOUSES: Illustrated Map & Guide
ALL-NEW 2013 EDITION
Locates all 101 standing and "lost" lighthouses in New Jersey, Southeast Pennsylvania, Delaware, Maryland and Virginia on a detailed map. Completely rewritten description and history of every standing lighthouse, with directions to each one or the best viewing spots; plus much more. With 29 original watercolor illustrations—21 new.
Size: 24" x 36". Folded to 4" x 9", retail $6.95. Laminated poster, retail $12.95.