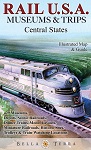 APRIL
RAIL U.S.A. MUSEUMS & TRIPS – CENTRAL STATES
Illustrated Map & Guide
Locates and describes 400+ rail attractions, from Ohio thru Minnesota in the north and Alabama to Louisiana in the south. Includes rail museums, historic depots, scenic railroads, dinner trains, model railroads, train-watching sites and much more. With 16 specially commissioned watercolor illustrations.
Size: 27" x 39". Folded to 6" x 9-3/4", retail $9.95. Laminated poster, retail $14.95.